Pineider's beautiful handwriting courses are back in their boutiques. An opportunity to rediscover the forgotten pleasure of an ancient and subversive act: writing by hand.
"In the digital age, paper and pen preserve the delicate beauty of everything that cannot be replicated. The slant of 'l,' the intricacies of 'g,' ink smudges, the spacing between words. These are the fingerprints of human personality." With these words, excerpted from Pineider's Manifesto, writer Enrico Dal Buono crystallized the essence of handwriting, a "realm of unique and irreproducible singularities" where "writing a simple note becomes a subversive gesture, a claim of uniqueness. By holding a pen, we expose ourselves to the risk of loss, we pledge to the certainty of never again. And this decision, which rebels against the mechanism of seriality, corresponds to authentic luxury."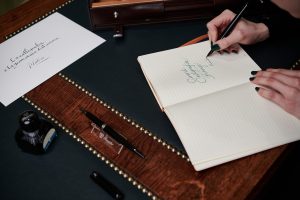 A luxury that comes to life every year in the handwriting workshops organized by Pineider in its boutiques in Milan, Florence, and London. Starting from late September, the courses dedicated to those who want to re-learn writing or simply enjoy the pleasure of holding a pen will resume. Eloisa Libera, a handwriting teacher and partner in this initiative for the Milan boutique's courses, prefers the term "beautiful handwriting" to "calligraphy." Eloisa is the founder of Lettera E, a graphic studio dedicated to her greatest passion, in which she wagered her past as a product designer and embarked on an entirely uncharted future: "I worked in a small agency, where I was often in contact with the world of graphic design," Eloisa explains. "I was very drawn to the world of fonts and curious about the origins of the design of each letter, so I discovered the world of calligraphy and fell in love with it, to the point of giving up everything and diving headfirst into it." Eloisa's journey was unconventional: "from fonts to lettering, to finally embracing calligraphy. Usually, it happens the other way around, but fortunately, it worked out for me. I immersed myself in something where it was difficult to see the future, and I turned my passion into my profession."
Discover our beautiful handwriting courses HERE.