The art of writing is one of the most refined and meaningful forms of expression, and gifting something extraordinary to a talented writer is a unique opportunity to frame their creative genius with a touch of timeless elegance. Pineider, with its 100-year legacy of handcrafted excellence, stands out as the epitome of luxury and refinement in Italian stationery. In this fine selection, we will explore some of Pineider's exclusive creations designed to win a writer's heart and inspire their flow of words.              
Personalized luxury pens: fountain pens, ballpoint or rollerball pens
Prominent among Pineider's works of art are luxury personalized pens, authentic gems of style and mechanical perfection. The craftsmanship of artisans combines with fine materials, creating writing instruments that embody excellence. The timeless elegance of Avatar UR and La Grande Bellezza Rock fountain pens will captivate the senses of the beholder, while the pleasantness of writing becomes a fascinating experience, enchanting the writer's hand.
Packaged like custom-made jewelry, these pens can be personalized with hand-engravings of the writer's name or initials, lending an aura of uniqueness and intimacy to the pen of choice. The fluidity of the ink is a caress for the paper, dancing between the lines like a ballet of words, an elegant symphony of ideas come to life.

Notebooks, notebooks or notebooks.
In the world of words, every writer seeks a silent and prized companion where he or she can guard his or her revelations. Pineider's notebooks, journals and notebooks embody the ideal place where ideas can flourish and take shape. The genuine Italian leather covers of the Milano Large Leather Notebooks and Pensieri 14.5x21cm notebooks are precious treasure chests of inspiration, ready to capture the creative flow.
With a wide variety of pages to choose from, from white to ruled sheets, and stunning colors, these stationery treasures stimulate a writer's creativity without boundaries. The harmony between touch and sight, the pleasure of brushing against soft leather and feeling the texture of high-quality paper is a feeling that nourishes the writer's heart.
Calligraphy and bookbinding workshops
To fully immerse yourself in the art of writing, Pineider offers the unforgettable experience of calligraphy and bookbinding workshops. Calligraphy, with its elegance of strokes and harmony of forms, becomes a dance of beauty in which words take on a life of their own. Pineider's calligraphy workshops, masterfully led by experienced masters, offer a unique experience of this ancient art, enabling the writer to elevate his or her writing to an enchanting art form by rediscovering the pleasure of holding a pen, sketching the elegant shapes of the letters of the alphabet, reconnecting with the cursive of yesteryear and regaining an awareness of the fragility and beauty that paper and pen still preserve today.
Binding, a delicate fusion of form and function, is an ancient Japanese art that Pineider has preserved with refined mastery. The care taken in creating personalized notebooks becomes an experience that enchants every aspect of the process, from the selection of materials to the precious craftsmanship.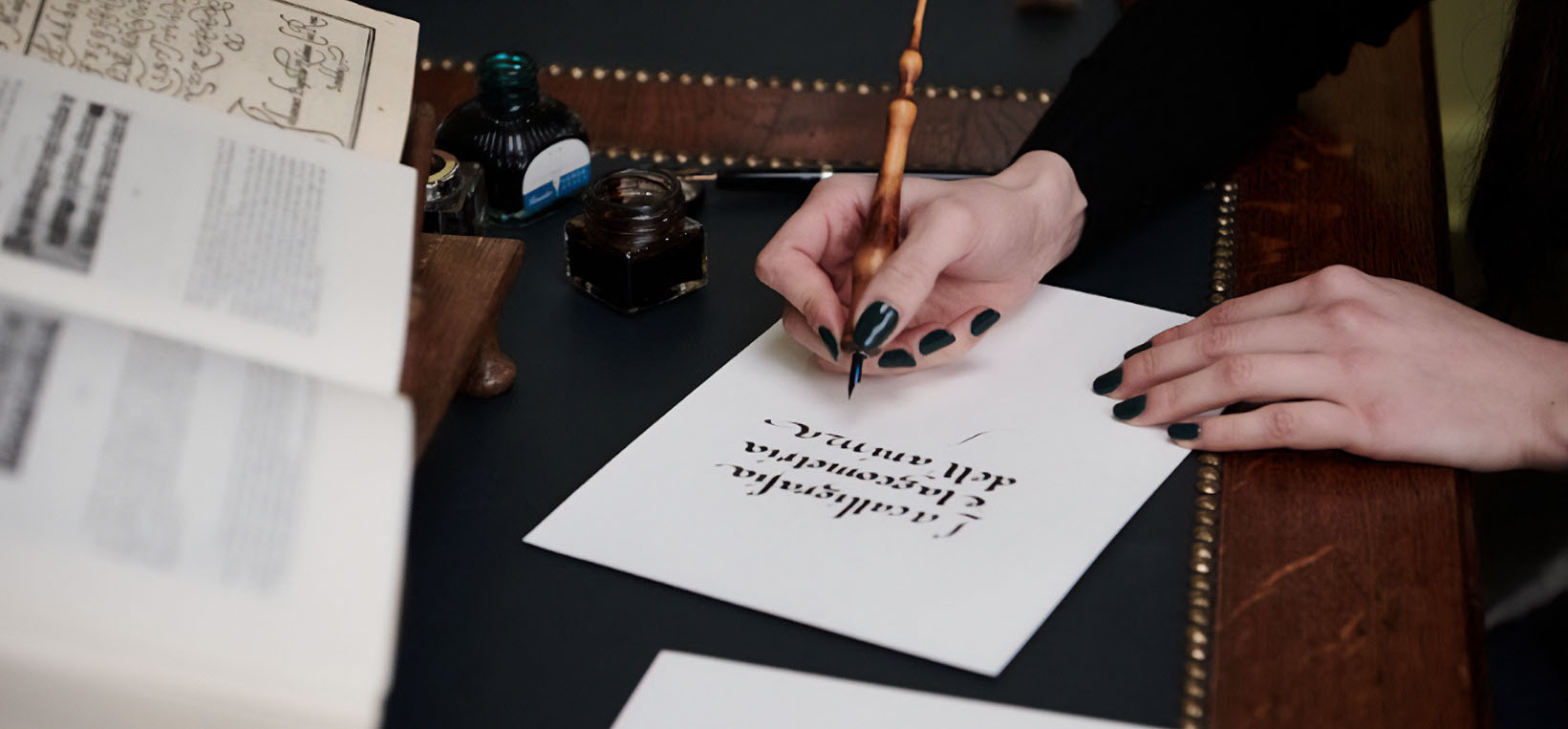 Pen holders and cases
To guard a writer's writing instruments with care and style, Pineider presents a selection of pen holders and cases made from fine Italian leather. These precious caskets are the ideal home for pens, a safe and charming place to rest when they are not busy dancing on the pages. 
However, the elegance and sophistication of Pineider's pen cases and cases do more than just protect precious writing instruments; they also add a touch of class to the entire writing experience. Every detail is attended to with handcrafted perfection, from the selection of the finest Italian leathers to the meticulous tailoring. Cases such as the refined 360 Pen Case and pen cases such as the elegant 720 Collection Double Pen Case revive a passion for classic craftsmanship.

Conclusion
In the act of giving one of these Pineider treasures to a writer, you are giving more than just an object; you are giving a promise of inspiration, a spell that will stimulate his or her talent and love of writing. Among these handcrafted wonders, dreams will come to life and stories will be painted with the richness of words. With Pineider, gifts for writers become a journey into a world of timeless beauty and boundless creativity. Feel free to explore these luxurious collections to give an aspiring writer a unique and unparalleled experience.